The Suzuki Method is not about a car or a motorcycle.
It's a GENIOUS way to teach young children how to play a musical instrument, particularly, a stringed instrument.
The Suzuki Method teaches children as young as age 3, to play their instrument. Repetitive listening and learning by rote are used heavily in the Suzuki program.
Suzuki learning is patterned after what is referred to as "the mother tongue approach." Just as we learn to speak words prior to learning how to read text, the Suzuki Method encourages sound and tone production on an instrument prior to learning how to read notes.
Most Suzuki students can play dozens of songs from memory before they can even read the correlating written notes/music! With a strong foundation in posture, technique, and memory, most Suzuki students go on to learn note-reading just fine and are competitive players as they mature.
The Suzuki Method was developed by Dr. Shinichi Suzuki, in Japan.
You can find a Suzuki-certified teacher, near you, here.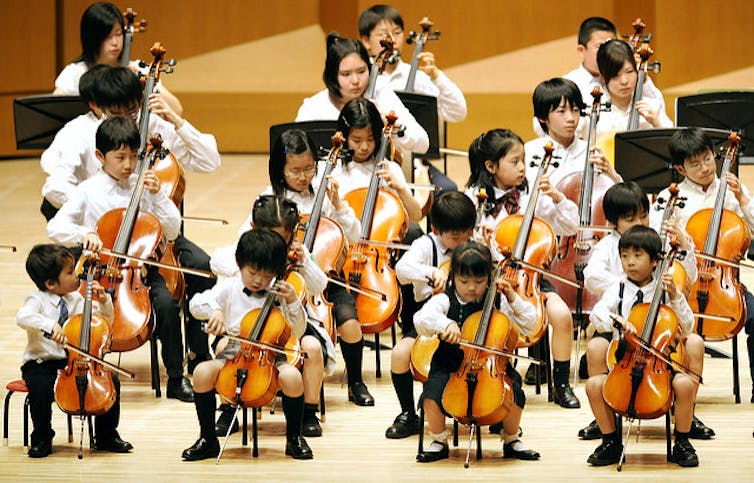 Is the Suzuki Method right for my child?
The Suzuki Method is most ideal for young children whom have someone that will practice with them at home.
An at-home practice partner is essential for progressing in the Suzuki Method. Young children need help with daily practice, as many of them aren't old enough to remember the assignments from their weekly teacher… This is why a home teacher is essential. A supportive home teacher will take notes at lessons, and be with the child at each practice session at home. As a Suzuki student matures and advances in the repertoire, the importance of a home teacher decreases. Eventually, students 'wean' themselves and become independent when practicing.
My child is a teenager, is Suzuki a fit for him/her?
Because teenagers are equipped with reading skills, learning the Suzuki Method, where note-reading is not taught at the beginning, sometimes seems too simplified for them. Teens tend to want to read music and take off playing songs of their choice. Because traditional Suzuki studios follow the Suzuki repertoire chronologically, teens might feel restrained.
Additionally, Suzuki teachers usually teach a 'group lesson' once a month, during which, students of similar musical ability gather to practice together. If a student is a teenage beginner, sometimes the age disparity between preschoolers and a teenager is discouraging. Nonetheless, some teachers may excuse a teen from a group lesson setting.
With that being said, I believe it's never too late to begin learning an instrument. Go for it! Find the right teacher for you, there are many FABULOUS non-Suzuki teachers. Learning an instrument at any age is enriching and exciting!